If you're embarking on a family camping trip and looking for some no-fuss campfire recipes to see your kids through the experience, you're in luck. From rough-and-ready flatbread pizzas to toasted marshmallows, you'll find no shortage of quick, easy and mouth-watering meals you're able to make with little more than firewood, tin foil and a big dollop of resourcefulness.
Here are a few of our favourite ideas guaranteed to keep the whole family happy.
Campfire pizza
If your little 'uns are picky eaters of the highest order, this flexible campfire pizza recipe is an easy way to adapt your fireside dinner to suit even the least sophisticated palates.
Ingredients:
1 flatbread

3-4 tablespoons of pizza sauce

1/3 cup of grated cheese

Approx. 1/3 cup of your favourite vegetables, also chopped

3-4 slices of whichever meat you fancy

Fresh herbs and/or olives (optional)
Instructions:
Place your flatbread in the centre of a sheet of foil that's at least twice as long as the flatbread itself.

Layer your ingredients on top: sauce first, then cheese, followed by any topping you'd like.

Wrap your pizzas in a sealed foil packet, leaving some room on top so that the foil isn't covering your toppings – then get this on the grill until the cheese has melted (opening the packet every so often to check that the bottom of your flatbread isn't burning).
Paella foil packs
This scrumptious Spanish dish may seem a little refined for campfire dining, but don't be fooled – the foil pack alternative is still a yummy substitute.
Ingredients:
Chorizo

Shredded roast chicken (with no skin)

Chopped onion

Minced garlic

Chopped bell pepper

Cherry tomatoes

Saffron, salt and pepper

Equal parts Arborio rice and white wine
Instructions:
Make yourself some foil bowls using two sheets of nonstick foil (dull side in).

Fill each bowl with as much of the chorizo, chicken, onion, garlic, pepper, tomatoes and seasoning as you like – then add equal parts rice and wine.

Stir everything together and bring the edges of the foil to the top so that you can close each pouch.

Place your paella pouches on the edge of the campfire – near but not on the open flame.

Rotate every 10-15 minutes or so – cooking for around an hour in total. After that, you can remove your paella from the campfire and enjoy!
Hobo pie
Quick, easy and rather moreish, hobo pies are the toasted sandwich of kings and can be sweet or savoury depending on your preferences.
Ingredients:
Sliced bread

Cooking spray

Butter

Eggs

Cheese slices

Cooked sausage patties
Instructions:
Spray the inside of your

hobo pie iron

with cooking spray, butter one side of each piece of bread and place your bread in the pie maker (butter side down).

Whisk the eggs in a bowl and pour over the bread – then top with cheese and sausage.

Close the pie maker tightly and cook over a campfire for around 4-8 minutes – turning frequently – and finish up by placing your hobo pies on hot coals for no more than 5-10 seconds on each side.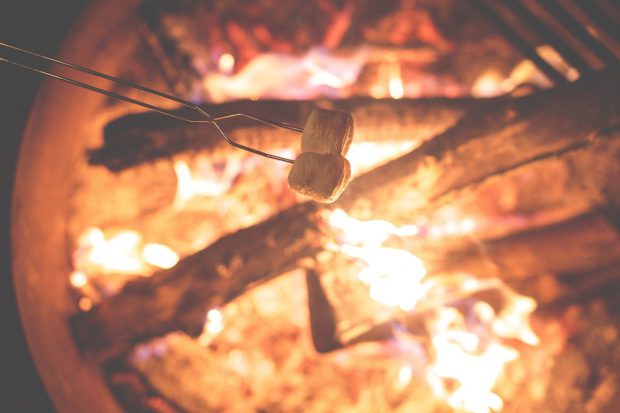 Toasted marshmallows and Baileys
When the campfire stories are over and the kids have taken themselves to their tents for a good night's sleep, it's time for you to enjoy a truly self-indulgent dessert before bed (with added nightcap).
Ingredients:
You know what to do.
Looking for caravan finance?
You're in the right place! Pegasus Caravan Finance are the UK's leading provider of fuss-free caravan finance deals.
Try our caravan finance calculator for an instant quote, or apply online for a quick decision today.