This unusually small caravan was designed by motor enthusiast Fan Bangwei and displayed at the Motor Show in Chongqing City, South-West China. The caravan attracted a lot of attention and sold at the show for 19,800 yuan, around £2,358.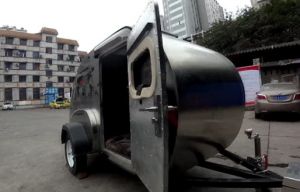 Measuring 7.8ft long and 5.5ft wide, it is equipped with a double bed, hot water boiler and fully functional kitchen to accommodate two people. Although this little caravan is compact it has everything you will need for a short getaway. Well except for a toilet!
According to reports the small caravan was first built in 2016. In order to obtain a motoring certificate, a few modifications had to be made. Testing for the caravan took place in Yannan, Guizhou and Sichuan, a number of small and remote provinces in China.
Half the height of the average caravan, it is made of steel. The double bed takes up the majority of the space inside with only a small shelve at the foot. The kitchen is located at the back of the tiny caravan, with extra pull out worktops.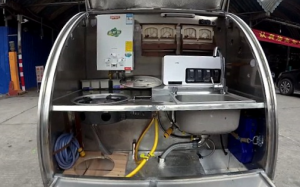 In 2015 the official smallest production caravan was named the 'Gidget', being 2 inches longer than the caravan above it measures 8ft in total. Designed by camping couple Glenn Wills and Christine Bree it is made of timber and fibreglass on a metal chassis. The inspiration came from the 1930's 'tear drop trailers' very similar to the look of the trailer above.  Top of the range 'Gidgets' will cost buyers approximately £10,000.
Are you looking to buy a caravan? Traditional or a quirky conversion? The Pegasus finance experts are here to help. Just visit our calculator page and apply now to see how!