There's nothing more exhilarating than the experience of trading city living for a weekend in the natural world. Whatever you're looking for, from tranquil landscapes to white-knuckle adventure sports, the wilderness has got it all.
Thorough preparation before pitching up in the middle of nowhere is, of course, the key to a stress-free escape. Whether you're travelling by car or motorhome, or taking your tourer along for the journey, a wilderness survival kit will come in handy – and this goes far beyond a first aid kit.
With so many weird and wonderful camping accessories available to buy today, how do you decide what makes it into your rucksack? Today, we're giving you a breakdown of what to pack for your next adventure in the great outdoors.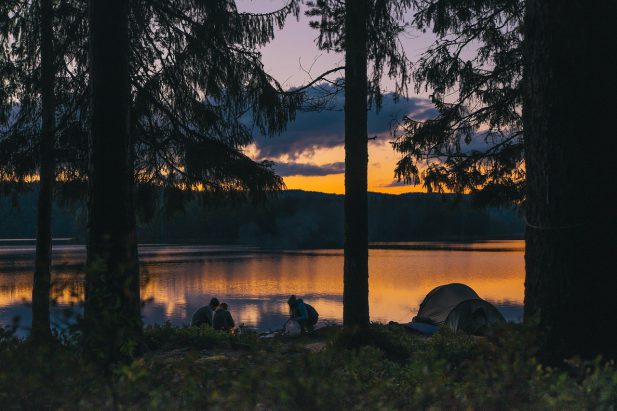 Camping gear
When packing for a camping trip, it's hard to know what gear you'll need to add to your checklist. Whether you're more of a glamper or you're looking to embrace the rugged wilderness, there are a wide range of necessities to consider. Our top camping equipment recommendations cover all the essentials – so wherever you're heading, you can rest assured that you're prepared for anything and everything.
Sleeping arrangements
A solid base camp:

Whether that's a tent or touring caravan, the key to happy camping is something waterproof overhead. A single skin tent can become more of a water feature in wet weather, so protect yourself from the elements with a double skin tent. Something spacious in both the sleeping compartment and outsize vestibule means you can take shelter indoors with a pack of cards during those rainy days. Rigid geodesic exoskeleton tents, such as the Heimplanet Cave, are easy to inflate and will provide a strong frame for your outdoor home

 Mallet and spare tent pegs:

These essentials can literally make or break a camping trip. Imagine pitching up and rushing off to the campsite bar, only to return and discover your tent has packed up and blown into the next field. A mallet and extra tent pegs will help you to ensure that your tent is secure in its spot – and any bent tent pegs won't cause a problem with your spares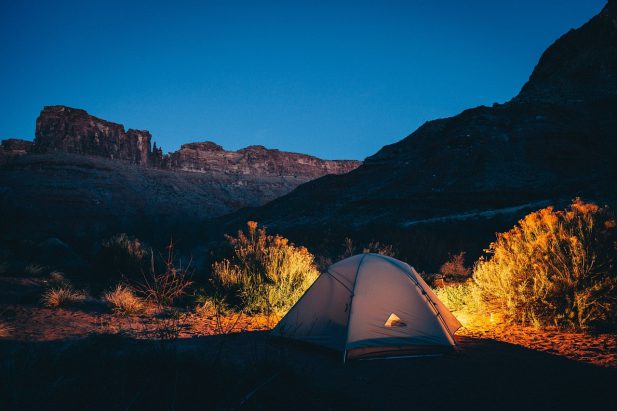 Light up your spot:

Pitching up outside of civilisation is an exhilarating experience, but that doesn't mean you won't need a few home comforts. Low light pollution may make for a stunning night of stargazing, but a lantern will dramatically improve your adventure – you don't want to fall over the guy ropes and flatten your tent in the middle of the night, after all. Bring a lantern that is both handheld and able to fill the central vestibule with light

Hook up with electricity:

Camping doesn't have to mean renouncing technology altogether. In fact, the incredible number of camping apps and gadgets available today make adding electricity to your tent or camper an important consideration. Leisure batteries and electric hook-up cables are easy to get hold of, and are ideal for campers spending the night in a touring caravan or glamping in a six-man teepee tent

Comfortable sleeping mats and sleeping bags:

When camping in a tent, a quality sleeping bag can make all the difference when it comes to getting a decent night's sleep. Remember that it's just a thin layer of canvas separating you from the wilderness, so keeping warm is going to be a priority after nightfall. A roll mat or airbed will not only bring the comfort factor, but also provide welcome insulation. In a tourer, home comforts such as a pillow and duvet may be more appropriate – but either way, comfort is always key

Block the noise out with earplugs:

Whether it's noisy festival-goers who don't want the night to end, a snoring neighbour or a rooster's 5am alarm, earplugs are a must-have when camping. Action-packed adventures in the great outdoors require plenty of rest, so invest in a packet of earplugs before you set off
Cooking utensils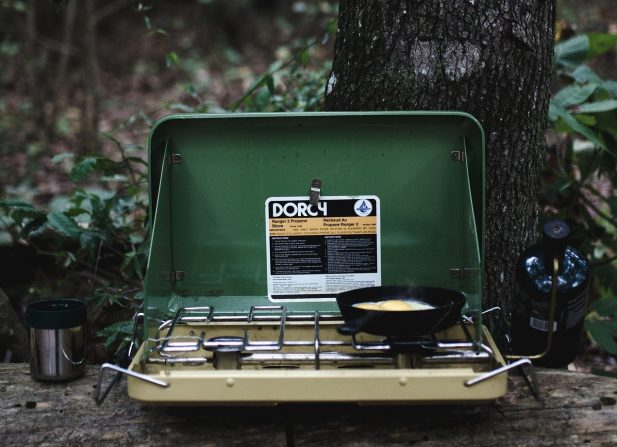 Eat well on a high power burner:

Roasting marshmallows on the open fire is a must, but it's hardly a substantial or nutritious dish for a fortnight in the wild. Investing in a stove makes camp cooking convenient, so you can avoid those nasty bills that come with constantly dining out. The Primus FireHole 300 is a stove that's all about serious campsite cuisine. With two propane burners, an inbuilt lighter and mounted windscreens, you'll be prepared to cook up a storm come wind, rain or shine

Don't bring everything but the kitchen sink:

Whether you're travelling in an RV or coupé, space is bound to be precious. Unless you're planning on leaving the kids behind, bringing everything but the kitchen sink just isn't an option. Luckily, the world of contemporary camping cooksets means you can carry your whole kitchen in one compact pot. This way, you can bring everything from a 3-litre and 2-litre aluminium pot and frying pan to insulated mugs and colour-coordinated tableware

Keep cool with a refrigerator:

Whether you're after a handy, durable icebox, such as the Kelty Folding Cooler, or a portable refrigerator, the wide selection available in camping stores will leave you spoilt for choice. Gone are the days of tent-warmed beverages – after a long day of exploring, enjoy a refreshing bottle of beer from the comfort of your camping spot
Safety precautions
First aid kit:

A fully stocked first aid box is vital when camping. You never know when it may come in handy but, when that times comes, you certainly won't regret it! Ensure your kit is packed full of everything from plasters to insect spray, not to mention some paracetamol in case of a heavy night around the campfire

Sun tan cream:

Whether you're camping abroad or somewhere closer to home, the strength of the summer sun is something you can't afford to underestimate. Protect yourself against nasty burns with sun cream and after-sun, and remember how easy it can be to burn – even through cloudy skies!

Toilet roll and anti-bacterial handwash:

Most campsite toilets should come stocked with these essentials, but there's no harm in packing a roll of toilet paper and some hand sanitiser just in case

Pocket knife:

The humble pocket knife should make every adventurous camper's equipment checklist. Whether you're foraging for food or just need something sharp to cut some packaging, the Adventure Medical SOL Origin Survival Tool is our choice for an all-in-one pocket-sized kit
Camping apps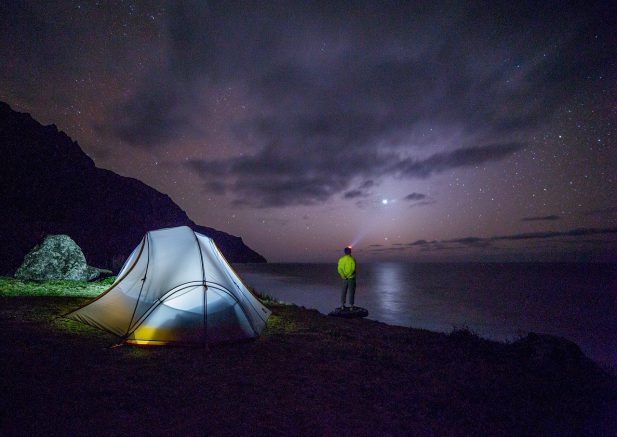 With the development of 3G and 4G network coverage in even the most remote areas, technology is revolutionising the world of camping. With portable leisure batteries, on-site electricity and campsite Wi-Fi, there's no excuse for you to miss out on the best camping apps available. With an enormous range of apps covering everything from first aid and weather to finding your tent, downloading these handy applications onto your phone can help you make the most of your trip.
First Aid by British Red Cross

iOS and Android: free

An adventure in the wilderness won't come without the risk of danger. Luckily, with this app, you don't need to be the designated first-aider if an injury occurs. This app has it all, from simple, step-by-step instructions to expert advice and video tutorials – as well as a panic button in case of an emergency situation

 Weather +

iOS: £0.69

Avoid getting caught in the storm by keeping up-to-date with the current and five-day forecast for any location. Planning your day trips with this paid version of the app couldn't be easier – as you'll be able to store and check unlimited locations, so you'll know exactly what outfit to pack for your travels farther afield

The Club Siteseeker Camping App

iOS and Android: free

This travel companion from the experts at The Camping and Caravanning Club is the perfect search tool for a whole catalogue of campsites. Filter your results by location, price and on-site facilities, and use the interactive map to locate nearby sites. With the ability to access the app both on and offline, booking a campsite on the move couldn't be easier!

GoSkyWatch

iOS: free

There's nothing more romantic than an evening of stargazing – and with this handy app, you'll be able to identify exactly which constellations you're looking at. Point your iPhone or iPad at the stratosphere to unlock a universe of information on the beautiful, starlit skies

WikiCamps UK

iOS: £0.79, Microsoft: $0.99, Android: free

This camping companion not only boasts the largest database of campgrounds, places of public interest and information centres but is also kept up-to-date by its users, meaning you'll never get lost or left behind. With interactive maps, site details and camping checklists, this app is a complete life-saver

Columbia: What Knot To Do In The Great Outdoors

iOS: free

Camping isn't just for the boy scouts. For all things knots, this app teaches you everything from the Sheepshank to the Flemish Bend. With step-by-step illustrated instructions for 70 different knots, you'll soon master the art of camping in the wilderness!

The Coleman Camping Cookbook and Meal Planner

iOS: free

Although the content of this camping cookbook is as all-American as it gets, each of the mouth-watering campfire recipes found within makes it a revolutionary app for UK campers. Easy-to-follow methods and clear information on what equipment and ingredients you'll need make this app a user-friendly solution to cooking while you camp
Camping gadgets
If you'd prefer to stay in touch with the modern world during a wilderness adventure, a wide range of camping tech is available to help campers take their experience up a notch.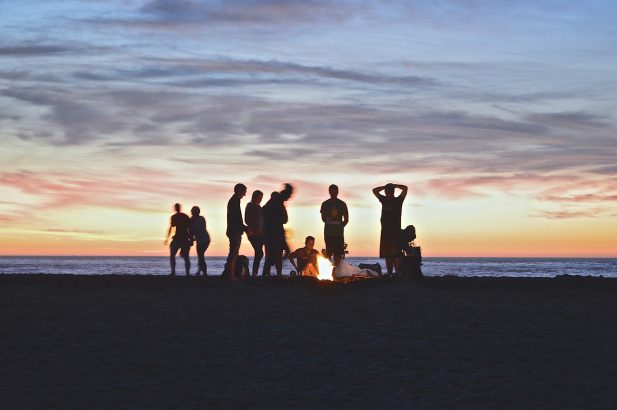 Rumpl

Sitting out in the open air on your camping furniture is a refreshing way to relax – but what if that Great British weather has other ideas? Keep cosy while you camp with this all-purpose waterproof throw blanket

Fugoo Speaker

Add some ambience to your camping spot with the Fugoo Speaker. As well as being snowproof, sandproof and waterproof up to 3 feet for a 30-minute period, the Bluetooth connected speaker has an impressive battery life of 40 hours. With awesome 95dB SPL-A volume, you're guaranteed a top-notch soundtrack in the great outdoors

Biolite Nanogrid

This clever 4-in-1 system is a game-changer in the world of camping gadgets. Charge your other USB devices with its power bank, or light up your pitch with this lantern/torch/daisy chain combo. With a 4,400 mAh battery and 250 lumens of light, the highly versatile Nanogrid is an innovative addition to the camping tech scene

Garmin Fenix 3 GPS

This ingenious GPS watch is a fantastic choice, whether you're a runner, cyclist or all-round outdoors fanatic. Plan your workout, track your progress or keep an eye on your location. The GPS mode uses GPS and GLONASS to keep you up-to-date on your whereabouts at all times – and with 15-50 hours of battery life, this gadget is guaranteed to see you through your trip

Matador Pocket Blankets

For any camper that's struggling for space, this nifty pocket blanket is simply incredible. Folding up smaller than a bag of crisps, these compact HyperLyte nylon blankets are ideal for a picnic or beach break. The lightness of the design doesn't compromise its resistance to water or punctures, either. This smart material isn't fazed by sharp stones or knives making it one of the most durable blankets on the market

Katadyn Base Camp/Gravity Camp

Any wilderness explorer will know that finding clean water can be nigh on impossible. That's why Katadyn's water filters are such an essential gadget for any escape to the wilderness. Available in 6-litre Gravity Camp and 10-litre Base Camp versions, this filter couldn't be simpler to use. Just fill it up and let gravity take care of the rest. You'll even get over 1500 uses from the glass fibre filter – making this innovative design a must-have

Sitpack

Any festival-goer will know that getting to the front of the audience to catch the headlining act means a long, long wait – if only there was a compact portable seat to make the queuing a little less tiresome. Luckily, there finally is! The new Sitpack seat can fold right down to fit in your pocket, as well as supporting a maximum of 130kg whilst in use
So you've got the gear and the gadgets, and you've downloaded all of the essential apps for your camping holiday. Now, the only thing that's left to do is to make sure your vehicle is as up-to-date! Make the most of your outdoor adventure by upgrading to a new motorhome or caravan.
By buying your caravan or motorhome on finance, you can bypass the upfront price tag and spread the cost over a series of affordable monthly repayments. With the option to borrow anything from £5,000 to £100,000, it couldn't be easier to find a deal that suits you. Get a quick online quote with our loan calculator or apply for finance today to hit the road as soon as possible.