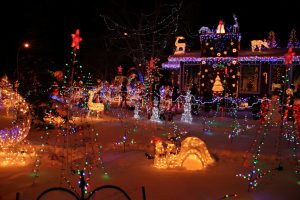 Fancy waking up in the morning in your cosy caravan with a view of frost covered valleys and countryside. The winter season brings just that, with many people also festively lighting up their caravans.
Whether you turn your caravan into a full Santa's grotto or just put up a few fairy lights up, either one will spread the Christmas cheer throughout the park. As well as making it easier to find the caravan in the dark winter nights. A transformation that both your family and on-site neighbours will love!
We have a few ideas to make your caravan a little more festive this season.
Rope Lights
With rope lights there is no need to get stuck in an endless battle untangling fairy lights. They come in all sorts of colours and several lengths. Rope lights are sturdy for outdoor lighting whilst being easily shaped around caravans or awnings for simply decorating.
Wreath
A wreath is an essential part of Christmas and it doesn't always have to be hung on a wooden door; the caravan door will do just fine. Remember to buy one suitable for outdoor use. A LED or light-up wreath may be the welcoming feature that your caravan needs.
Outdoor Decorations
This depends whether you want to go all out! Penguins, snowman, reindeers and even Santa figurines will make a great addition to your caravan space. Whilst creating a Santa's grotto inspired area. Light up figures are generally recommended as the inflatable ones may not withstand the potentially bad weather. If your limited on space, a simple 'Merry Christmas' light up plaque attached to the caravan will at least make someone smile.
Don't let the cold stop you from caravanning this Christmas! It is the perfect time to have a festive get-away and spend quality time with the family. Let us know if you are having a break away this Christmas.