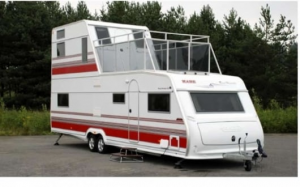 This huge caravan first hit production in 2007, yet wasn't seen on the roads until 2008. It really is a statement- a double story caravan even equipped with a balcony to relax and eat breakfast on. The two story caravan was manufactured by KABE (a Swedish company). Due to its size it was named the Royal Tower.
When the road laws said they couldn't make it longer or wider, KABE decided the only way was up. And the two story caravan was born. KABE has been manufacturing since the early 1960's in the same location they always have. The pride themselves on the quality they produce, only making around 400 caravans a year. Even though they no longer make the KABE Royal Tower, it is still a head turner as one of the world's craziest caravans.
A much as the Royal Tower was an eye-catcher from the outside, it was a pure piece of luxury on the inside. Leather seats, TV's with surround sound and air-conditioning- the interior appeared to look similar to an Ikea showroom. It even had a fully functioning kitchen, kitted out with a dishwasher and four burner cooktop.
The original price tag was €105,000 when it was launched in 2007. So it definitely wasn't on the cheap side.  At 15 ft. tall and nearly 32 ft. long it really did stand out. Although you never saw it outside of Scandinavia, as the majority of bridges in countries elsewhere were too low to accommodate for the size of it.
There are still some two story caravans and motorhomes available, however they aren't cheap. Only if you are prepared to spend at least half a million. Will Smith has a double decker motorhome that is believed to be worth at least two million dollars. It really is his home from home, filled with all the mod cons and gadgets that everyone can only dream of.