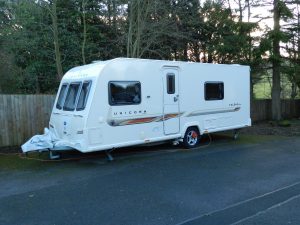 The Unicorn Valencia is Bailey's best-selling caravan. It has topped manufacturer sales charts for almost 6 years. Now on its 3rd generation, we took a look at the new 2017 model.
Weighing less than 1500kg, the caravan is incredibly light weight for the spec it comes with. Plenty of plug sockets, a TV connection in the corner and a large kitchen area- enough for the whole family.
The side fixed double bed is popular in the Bailey, with adequate space down the side to get to the shower room. Lifting the bed reveals a large storage area, ideal for extra bedding and all the little extras.
The lounge area is equipped with two 1.8m long settees, large enough to make into two single beds. For daytime relaxing the settee backrests are slightly angled for additional comfort.
Including four towel hooks, a shower shelf, panel radiator and plenty of lighting; the shower room is perfect for a family. A circular mirror can be expanded from a mount for ease when applying make-up or doing your hair.
Beside the bed there is a small compartment, which I think comes in particularly handy. Great for holding shoes, keeping the trip hazards off the caravan floor.
For snacks a table can be pulled out at the front of the caravan, although the table does not come out level to the windowsill. This isn't a problem as the deep windowsill is great for holding the serving dishes, whilst the plates can be on the pull out table.
For a lightweight single-axle caravan, it tows brilliantly. All Bailey Unicorn caravans come with an ATC electric stability control system which comes as a huge benefit whilst towing.
If you are thinking of buying a caravan, let us know. Our experienced finance experts are here to help. Just visit our calculator page to see how.