Storing Your Caravan Over Winter
Caravan Hibernation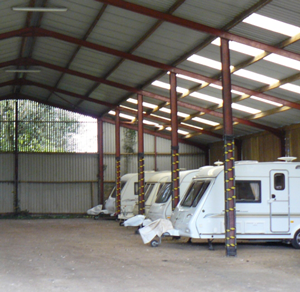 Unless you are one of the few brave ones among us who continue to use your caravan during the winter you will need to store your caravan somewhere over the winter. Whether you store it on your drive or use a storage facility we have some top tips to ensure that your caravan comes out of hibernation next year in good working order ready for next year's touring season.
A lot of our advice is common sense related suggestions such as draining down the water systems to prevent them from freezing up and bursting pipes, making sure there is good ventilation and preparing any fabrics for storage.
We also offer advice on security, tyres and various other issues that can affect you and your caravan. Simply follow these easy to do instructions and you will be pleased you did next spring when you want to use your caravan again.
Caravan Water systems
Starting with the water systems that we mentioned earlier, draining the system down entirely is the best protection from the frost and damaged pipe work and make sure that not a drop is left in a tap head or it could cost you.
Draining down instructions:
Open all of the taps and make sure any mixer taps are in the middle position so that the hot and cold valves are open. It is also best to remove the shower head and give it as good shake to get all of the water out.

Open all the drain valves and take out any drainage plugs including the external plug if you have an older water heater.

If your caravan has an internal water tank this should be fully drained.

Take out any filters and keep until after your spring clean and sterilisation of the system so that they are not damaged.

Run your on-board pump for a few moments until all of the water is pumped out and if you have a submersible pump this should be given a good shake to ensure that it is dry.

Any portable water containers or Aquarolls should be drained and dried properly so as not to encourage the growth of mould.
If you know when you final trip of the season is then a good tip for achieving a full drain down effectively is to carry out the above measures and leaving the drainage points open before taking your final trip home. The movement of the caravan whilst being towed will help the last few drops of water to find their way out of the system although you should know that it is against the law to discharge water on to the highway so make sure that you have got most of it out before setting off so that it is only a remaining few drips here and there.
Toilet Care
If you have a cassette type toilet in your caravan then you should drain it completely an clean it before storing it for winter.
If it has one, use the drain tube to drain the flushing water tank or otherwise flush the water from the tank through into the waste tank for removal. You can then remove the tank for emptying and cleaning before storage.
Give the toilet valve blade a good clean and coat it with a suitable silicon lubricant to maintain the seal. Some manufacturers also recommend that you leave the valve slightly open whilst in storage so that it doesn't get stuck in the closed position. This is also a good time to lubricate and clean any other rubber seals to make sure that they remain supple and in doing so will give them a longer life.
Electrics
During the winter it is advantageous if you are able to maintain an 230v electricity supply so that you can perhaps keep the heating going on low and the battery will be kept topped up. For most of us however this is not possible so you will need to consider the following advice.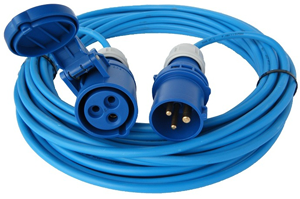 If the main leisure batter is going to be left in the caravan then make sure that it is isolated from all 12v equipment either by using the isolation switch if there is one or by simply disconnecting it manually. If this is not easily possible then just make sure that all electrical items are in the switched off and unplugged where you are able to. Remember the TV aerial booster if it is tucked away in a cupboard and don't forget that anything that is in standby mode is still draining the battery including the voltmeter on the control panel.
The reason we recommend that you go to these lengths is because Leisure batteries are costly to replace and even a disconnected battery will discharge over time and if not recharged regularly it's full storage capacity will never be regained.  If possible why not take your battery home and charge it every 4-6 weeks to keep it performing to its best when you next need it. This may not be possible if you need to leave it in situ to keep a security system or tracker system active in which case you may need to find a way of keeping it topped up or by having a second battery to substitute it with.
Gas systems
It is very important that all the gas valves on the cylinders are closed or if you have clip on regulators that you disconnect them and then cover the ends of any pipe work with a cap or cloth.
If you are going to put your van into storage then you best check with the storage company because some of them won't allow you to leave your cylinders in situ for any long length of time.
Wherever you store your cylinders make sure they are away from heat and when you are connecting them or disconnecting them ensure that you do not smoke and that engines and electrical equipment is turned off.
Caring for the bodywork
Taking the effort to prepare the outside of your caravan will definitely be worth the effort come next spring. It is also worth giving the under chassis a good wash and brush especially if you have used it late in the season when salt may be on the road, preventing corrosion.
Before you decide on how you are going to protect your van you will first need to give it a thorough clean. You could use a standard car shampoo or there are specialist caravan cleaning chemicals that are kinder to the different materials used in the caravan construction. Be careful with pressure washers though as these are quite powerful and can damage joints and seals. Look out for any signs of black or green mould as if left to grow over winter can mark or stain the surfaces, so get your old toothbrush out and get into all of those nooks and crannies.
Once cleaned and dried you can either cover with a breathable fabric cover or use a waxy protective coating called an Overwintering fluid like Fenwicks. Either of these will help protect your caravan from the elements, tree sap, bird lime and UV light.
With fabric covers you will get what you pay for and cheap ones will only last a season but do make sure it is the right size for you caravan and has the openings in the right place for the door and gas flue etc. It is also a good idea to cover protruding metal awning rails and sharp roof joint strips with some tape or old clothing before pulling the cover over.
Do make sure that all the surfaces are completely clean and dry before fitting a cover because any dirt and grit will get moved about and may scratch the windows or acrylic surfaces.
Interior Care
Inside your caravan it is best if you leave any spring-loaded blinds in the open position so as not to put any long term stress on the mechanism and shorten it's useful life. For ventilation purposes leave your fridge ajar with the appropriate catch
To prevent mildew on the fabrics either remove cushions and curtains to your home or put them in an upright position to aid ventilation which is key to keeping the interior damp free.
Make sure all of the rooflights and windows are firmly closed and finally give all the door and cupboard hinges with WD-40 which will prevent rust and keep them working freely.
Storage Options
Generally the options come down to storing your caravan at home on your drive or at a remote storage facility at a specialist site, farm or campsite.
If storing your van at home is not an option then go online and search for club sites that offer storage facilities or if you are a member of The Camping and Caravanning Club you can refer to your copy of "Your Big Sites Book".  You could also try the Caravan Storage Owners Association who list a range of sites across the country and grade them according to their security systems or measures. A cheap storage facility may be a false economy if your caravan gets broken into or damaged so like all things in life, you get what you pay for.
There are very few sites that offer under cover storage facilities and your caravan is designed to live outside but it is not best to store it under trees if it can be avoided. Tree sap, leaves, insects and bird lime will produce chemicals which will eat into paint work and discolour plastics.
Check access times with the site in case you want to visit to give your van an airing or carry out maintenance and ask about their vermin control as rats and mice can be a right menace and love to chew plastics and electrical wiring. This is an important question to ask as damage by rodents may not be covered by your insurance company so you may like to check with them and insure you tell them where you will be storing your caravan.
Finally
Caravan service centres and body shops are quiet during the winter months so if you need any work doing then this can be a good opportunity to get things up to scratch whilst you are not using your caravan. You may also be able to negotiate a better rate as well so don't be afraid to ask for a discount, just remember to smile and ask nicely!