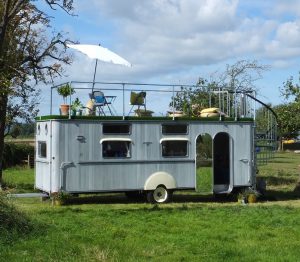 This unique 1950's Warwick Knight Caravan is believed to be one of three remaining in the world. In the pinnacle of its production this caravan would have cost nearly twice the price of the average house. Sadly production was discontinued in 1952.
Prior to the restoration, the Warwick Knight was known as the 'cattle shed on wheels' to its owners. It was a green algae covered damp aluminium box, with a fallen in roof and debris everywhere. This comes to no surprise after 6 decades of weathering. However its owners, Ali and Rich weren't afraid of a restoration project. They previously lived on a caravan site for two years whilst developing their home.
Inspired by memories of their couple holidays, Ali and Rich wanted to create a place where their sons could make their own fun memories. So the 'knight in shining armour' was born. The caravan sits on 'The Glamping Orchard' in Gloucester, a peaceful farm with mesmerising views.
Now fully restored the Warwick Knight Caravan has functioning kitchen, shower, compost loo and even a separate sleeping area. For the children there are bunk bed pods, whilst the adults have a fixed double bed. Or they can even to relax in the seating area with the log burner when the children go to sleep. The elaborate roof garden from the Earls Court Exhibition in 1952 has been recreated. Making a great place to sink into bean bags or even stargaze in the evening, all accessible from an external spiral staircase.
Ali and Rich brought the caravan for only £2,000 with the plan to restore it. In total they spent £11,500 in making it their prefect relaxing getaway. The caravan recently aired on Channel 4's 'Amazing Spaces', as the presenter George Clark filmed the entire seven month restoration project.
Next spring Ali and Rich have decided to start renting the caravan out, making it available for weekend, mid-week or even weekly stays. They want to provide their guests with the unique and glamorous holiday experience whilst on their farm.
Designing and restoring caravans is becoming ever popular. So why not try it? Don't worry; we can sort out the finance for you. Just visit our

calculator page

to see what we can do.